About Unique Parking Systems
Making sure your client's experience starts off right.
Founded in 2007, Unique Parking Systems has become the go to name in the tri-state area for valet parking services, event parking management, health care parking, hospitality parking, long term parking management, and more.
With over 20 years combined experience in the parking management industry, the founders of Unique Parking Systems understand that parking management and valet service is much more than just parking cars and managing space. More often than not, your parking and valet attendants are the first point of contact between your business and your client. That interaction sets the tone for the experience and Unique Parking Systems trains its entire staff accordingly. When your client is greeted by Unique Parking Systems, your client's experience starts off right.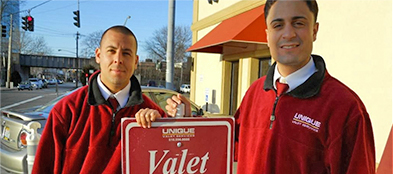 A message from our Founders…
"The only way to succeed is to provide the highest quality service."
Unique Parking Systems was built on the belief that the only way to succeed in this industry is to provide the highest quality services possible to all of our clients. Our values of efficiency and customer service have enhanced our company's growth and pushed Unique Parking Systems to the next level in the parking management and valet industry and beyond.
Our Primary objective is to take care of our customers. We earn trust by serving you in a reliable, prompt, and accommodating manner. We provide the highest quality of service and actively take the initiative to surpass our client's expectations.
We pride ourselves on the 24-hour availability of our on-call managers and the immediate response to customer requests. We make it a priority that our clients feel great about the services we provide.
As our business grows, we are constantly planning, developing and implementing new parking solutions for our client's most challenging situations and events while never forgetting the cornerstones that our business was founded on: Train our team to be the best and provide our clients with the best service possible.
Assurance and Insurance
Our clients' peace of mind is equally as important as our valet and parking management duties. When you use Unique Parking Systems, the one thing in your business that you will never have to worry about is parking. We guarantee you will not get calls, complaints, warnings, or any hassles. As long as Unique is on the job, you won't even be aware that there are vehicles bringing that steady stream of customers to you.
Unique Parking Systems will supply your establishment with the most up-to-date insurance coverage in the industry. All of our clients are listed on our policy as additionally insured. This coverage includes garage liability, personal injury, garage keepers fire, theft and collision and full workman's compensation and disability. No matter what happens, you can rest assured that you and your business are covered.